So you want to have a baby. It's something you have thought about for months- maybe years. You waited around for the "perfect" time and after realizing there is never a "perfect" time to have a baby, you have finally decided to just dive right in and start the process.
But where to start? And more importantly, what can you be doing RIGHT NOW to get the ball rolling? I remember when Micaela and I first started the process I couldn't find a timeline or a checklist anywhere and I so desperately wanted one! Lucky for you, I've created just that! Here is a list of things you can be doing RIGHT NOW when you want to start preparing to have a baby!
Start Saving
[Timeline: Years, or months before you try]
If you don't already have a budget, now would be a great time to make one! Having a baby isn't cheap and making a baby, especially for our community, isn't cheap either. Whether you do IVF or IUI, be prepared to throw down some serious cash. How much? Check out this article I wrote on the cost of having a baby via IUI to give you an idea as to what you will be paying. The bottom line is that you can never save too much money for this process! Best case scenario, you don't use all your savings and you have some extra cash to spend decorating your nursery or to put towards that sweet baby jogger. Worse case scenario, you have to take out a loan or charge some of your fertility costs- but better some than all! I'll say it again, you can never save too much!
Start Tracking Your Cycle and Ovulation
[Timeline: 10 months or so before trying]
This is probably the number one, easiest thing you can start doing right now that will REALLY help you down the road. I used an app to track my cycle and ovulation and found this way to be easiest for me. I tried doing this the cheap way the first time around and used a free app to track my ovulation. Before I even started trying, I ended up losing all my data. Months of ovulation specifics GONE. All the months I spent tracking was basically wasted effort. I was a devastated! And then I was PISSED! I contacted their tech support and unfortunately all my ranting about my period and ovulation window didn't help. Oh to be a fly on the wall when that tech support guy got my phone call! Clearly, they needed to find someone that was more comfortable talking about periods and ovulation than that poor unsuspecting techie!
After The Great Data Loss of 2016, I made the switch to Kindara. It's a paid app but after losing months of previous ovulation data I didn't care- I wanted something reliable and knew that would only come with forking over a little dough. I wanted all my data to be safe and secure so when I was ready to start trying I knew exactly when I was most fertile. I'm so glad I made this change!
Utilizing Kindara ended up being the app I wish I had all along! It allowed me to track everything! (And I mean everything!) You can even create tracking tools for your own custom data which is super handy if you want to add in data like IUI attempts! Instead of just entering in the first day of your mensural cycle and relying on some algorithm to calculate your ovulation, Kindara also uses Wink. Wink is a like a high tech thermometer that measures your ovulation through your temperature!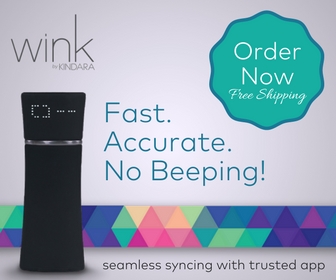 Its super easy to use and graphs all your data for you within the app. As it turns out, measuring your temperature is a lot less messy than dipping sticks into a cup of pee! Plus you can do it right when you wake up- before you even get out of bed! And everything is saved in a secure way so you don't have to worry about losing months of data like I did! I truly believe Kindara helped me understand my ovulation patterns and ultimately helped me get pregnant!
Start Taking a Prenatal
[Timeline: 3-6 months before trying]
A prenatal is different from your general daily vitamin. They are fairly similar with the exception of iron and folic acid. We are vegan and I ended up taking these. I loved them and used them throughout my pregnancy and during breastfeeding as well.
Find a Donor
[Timeline: Anytime/ 2 months before trying at the latest]
Oh ya! That whole thing! I wrote an entire blog post on this subject which goes into much greater depth about that process-you can find that article here! Just know that it can take time to find "the one" and you definitely don't want to be rushed! So start that process earlier than you think!
Research Fertility Clinics
[Timeline: 4-6 months before trying]
All fertility clinics are not created equal. I repeat. All fertility clinics are not created equal. I repeat-just kidding but hopefully you get my point!! Read reviews, ask your friends, ask your community and find one or two clinics that might be a fit. Then schedule a consultation. This is your chance to interview them! Yes, you need their services but ultimately you are a paying customer! Make sure it's a good fit because you will be working intimately with these people in very emotionally charged situations. And I'm not just talking about the doctors. Do the nurses advocate for you? Do they rush you through questions or do they truly listen? Is the front desk staff patient? How about the lab? Do they answer their phone? At some point during your journey you will work with everyone in the clinic and you want to make sure they have your best interest in mind. Of course we are all human and have bad days, but you can usually tell if a clinic is just after your money or if they truly care about you and your journey to parenthood. Do the research!
Pro tip: It can sometimes take months to get in for a consultation appointment. Prepare accordingly.
Call Your Insurance
[Timeline: 2 months before trying or if switching insurance plans, the year you want to start trying]
This is my least favorite topic on this list, mostly because its such a headache figuring this stuff out! Unfortunately, most fertility treatments for same sex couples are not covered by insurance. We had to pay out of pocket for everything at our fertility clinic. And I mean everything. Your case may be different and it's definitely worth spending the time to figure it out!
After we got pregnant, our insurance changed their policy and offered to start covering part of treatments after you had three failed attempts. Go figure! We were so excited to be pregnant we didn't really care, but just know there are insurance plans out there that will cover some costs.
Pro Tip: During open enrollment, do your research! Ask all the questions and play out scenarios to the reps to figure out which plan will save you the most money when you are ready to start trying! PPO may save you more than HMO or vice versa.
So there you have it! Five (actually that was SIX!) things you can do right now to start preparing for pregnancy! I know the fertility process can be overwhelming, but I hope this gives you guys some tangible tips on where to actually start.
As always, if you have any more questions about the fertility journey or would like to see more posts like this, let me know in the comments below!